SCRUMstudy is more popular than Scrum Alliance (Google Trends and LinkedIn Analysis)
Google Trends: Data from Google Trends below illustrates that since 2012, SCRUMstudy has become increasingly popular and has overcome Scrum Alliance in terms of "interest over time".(To generate this report, please visit www.google.com/trends and compare "SCRUMstudy" with "ScrumAlliance")
LinkedIn: SCRUMstudy certifications are more popular in multiple social media channels as compared with competition. Please refer the screenshots below for comparision.
Comparing SCRUMstudy with ScrumAlliance in LinkedIn shows 40,482 results for SCRUMstudy and only 9,504 for ScrumAlliance.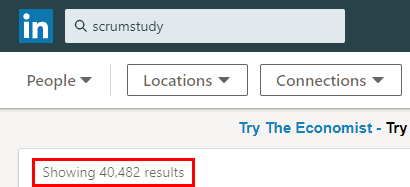 SCRUMstudy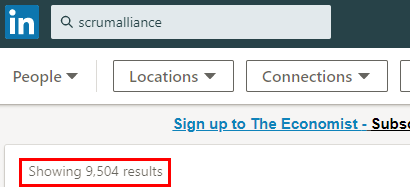 ScrumAlliance
Scrum Alliance
SCRUMstudy LinkedIn group with 68,056 members is bigger and more popular than those of Scrum Alliance (55,933 members) and Scrum.org (21,877 members).

SCRUMstudy

ScrumAlliance

Scrum.org
Join SCRUMstudy LinkedIn group with 68,000+ members
---
Biggest accreditation body for Scrum and Agile certifications: SCRUMstudy has the largest Authorized Training Partner (V.A.T.P.) network of 1,500+ partners in 50+ countries. To view the complete list, click here
Note 1: SCRUMstudy is not affiliated with Scrum Alliance or Scrum.org.
Note 2: Facts and figures shown above were generated on the 3rd of May, 2018